The help tool we are focusing on this week comes from Month 6 of the Hope Guides which talks about the conversation with outcasts. There are plenty of people we may enjoy spending time with, while there are plenty of others that, if we are honest, we might feel somewhat uncomfortable. Maybe we are afraid it will give us a bad reputation, or maybe we aren't comfortable with the sights and smells that come with putting ourselves in certain company.
While Jesus was doing ministry, He experienced those who were considered respectable and admired people, while others were considered unclean and unwanted. But Jesus didn't avoid the outcasts. He offered himself to them and gave them the opportunity to become part of his family.
So how do we start the conversation with outcasts? It begins with an invite. Through prayer, building trust, and time, the door will be open for you to share the gospel.
In order to do that, our help tool is to create an invitation to First Priority, a safe place where people feel welcome, not judged, and no one sits alone.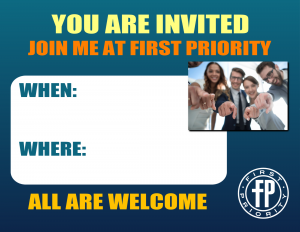 Students can ask God to give them the boldness to hand out their invitations to First Priority and be ready to greet them at the door when they come or even meet them in the hallway and walk with them.
All people matter to Jesus so all people should matter to us.