Are you willing to push past your fears, doubts, and insecurities so that someone else can get a glimpse of Jesus?
This week we are highlighting another Help Week Tool from our Hope Weekly Guides. This tool can be found in week 1 of the Conversation with Best Friends. We share these tools so that students can move past their fears and have something tangible they can use to share the gospel.
In week 1 of the the Conversation with Best Friends it tells the story of Jesus healing the paralytic. Here is Jesus' response in Mark 2 verse 5: "And when Jesus saw THEIR faith, He said to the paralytic, "Son, your sins are forgiven." It wasn't their faith in each other that Jesus saw, it was their faith in Him that forgave their friend's sin.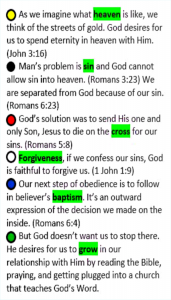 Wow! Friends telling friends about Jesus! That's exactly what we want students to be doing in their schools. The salvation bracelet is a tool students can use to do just that. 
Here are some instructions to get them started. Start with a piece of string. Tie a knot 2 inches away from the end and begin building your bracelet starting with the yellow bead. Follow along with the instructions and make it conversational as you add each bead.