With the school year quickly approaching, we want you to take a peak into one of the tools you can use to train students to share Jesus. This tool is included this year in month 7 'The Conversation with Enemies' of the new Hope Weekly Guides. You can (soon – we are updating) access all of these tools online for free at firstpriority.club/Hope or via the First Priority of America app. Here is the sneak peek.
Who would you say your enemies are? This can bring up different kinds of feelings, from betrayal to gossip. As you think of who these people are, start praying that God will give you a heart to love them. Let's read what Jesus says we should do with our enemies in Matthew chapter 5 verses 43 & 44. "You have heard that it was said, 'You shall love your neighbor and hate your enemy.' BUT I say to you, Love your enemies and pray for those who persecute you". Why should we pray for our enemies? Because Jesus did. He prayed for those who opposed Him, for those who betrayed Him, and as He was hung on the cross, He asked God to forgive them. Jesus modeled how we should pray for our enemies and commanded us to do the same. Our hearts should desire for our enemies to have a relationship with Jesus and their presence in Heaven. So we pray like the apostle Paul did in Romans chapter 10 verse 1, "Brothers, my heart's desire and prayer to God for them is that they may be saved." This can be something as simple as a card to remind us to Take 5 and Pray for 5.
Think of 5 people you would consider your enemy and commit to take 5 minutes a day and pray for their salvation and for God to give you an opportunity to share Jesus with them.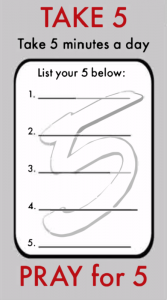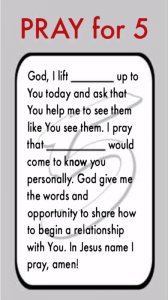 This tool is here to remind us to take the time to pray for those who may be really hard to pray for. But if you take this simple step, it can truly change your life and the lives of those you are praying for.