First Priority clubs all over the nation have decided that school closures won't stop them from sharing the gospel of Christ to their peers and beyond. As schools began to close, students began to step up, get on social media, and share beyond the limits of their school buildings. Students like Alaina in FP St. Louis Metro East. Listen to her two minute video of encouragement.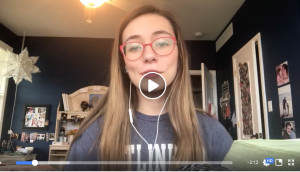 There are so many more videos and stories just like Alaina out there and they are reaching students for Christ! Like this one last week in Wake County, NC.
Carroll Middle had their First Priority club over zoom today and 1 student chose to pray to start a relationship with Jesus! There is no stopping our God!
Mark Roberts, FP Associate Director, shares in the video below how the local church can help students reach students for Christ. Listen to what he has to say and then click the button below his video for information how to get started.
Find out more about starting a virtual club here