First of all we are all praying for all of you during this time of uncertainty and chaos in our world and trust that you are also praying for the world of First Priority.
It has been amazing to see how this has become a motivational time for all of our chapters and clubs to be intentional and aggressive about continuing to share the gospel.
FPoA has played a HUGE role in making this a successful and coordinated effort across the country.  Some state level organizations are sending out our virtual club link to every youth minister in their system encouraging them to start FP clubs if they have not already.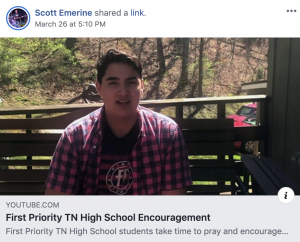 Here is the link to all of the resources and training that we have put out there and it is excellent stuff.  www.firstpriority.club/virtualclubs
Below you will find a couple of videos of students who are leading these virtual clubs as well as more social media pictures of what is happening online.