As we prepare to celebrate America's independence, it is a wonderful time to reflect on our freedoms – particularly the right to speak freely. It is the bedrock of our country's history and the first of ten amendments that protect our rights.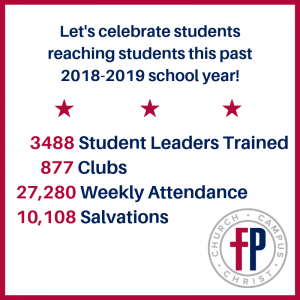 The First Amendment reads: Congress shall make no law respecting an establishment of religion, or prohibiting the free exercise thereof; or abridging the freedom of speech, or of the press; or the right of the people peaceably to assemble, and to petition the Government for a redress of grievances.
These few sentences encompass our right to gather, to worship, and to share Jesus with others. These rights protect students as well. What a beautiful reminder.
May we always give thanks for these freedoms and never take them for granted. It is for God's glory and honor that we are able to worship HIM freely.
"The Spirit of the Sovereign LORD is on me, because the LORD has anointed me to proclaim good news to the poor. He has sent me to bind up the brokenhearted, to proclaim freedom for the captives and release from darkness for the prisoners…" Isaiah 61:1 (NIV)