Exciting things are happening in FP Tri-county. They held a First Priority Training this week and expected about 50 people.
70 people showed up!!
We explained First Priority and then trained them on our HOPE cycle.

At the end we split them up into schools and they filled out paperwork to turn into their schools. Out of the 8 potential schools, we had enough people to start 6 FP clubs!

The other 2 potential schools had students there, but were missing a faculty sponsor. They had commitments but the flu hit those 2 faculty. So we should be able to launch those 2 clubs in a couple of weeks.
Below is a picture of the students coming up and the rest of us praying for them to be sent out as missionaries.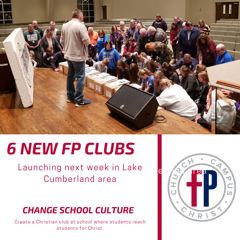 We gave each school 1 case of FP Bibles, 50 decision cards, and 3 copies of 8 weeks worth of curriculum to finish out the year.
Praise the Lord for the excitement and passion over there for the schools! Let's keep praying especially now as their clubs launch.
Are you ready to start a club?